Youtheatre: Class Acts
The Youtheatre: Class Acts series was created in 1992 to introduce North Country students to the magic of live theater as they watch historical and literary characters come to life, thus establishing a love of reading. A national study conducted by the National Endowment of the Arts states, "The arts not only have an academic impact on youth, but also a positive correlation to all achievement." The report concludes, "Socially and economically disadvantaged children who have high levels of arts engagement show more positive outcomes in a variety of areas than their low-arts engaged peers...These outcomes extend to school grades, test scores, honor society membership, high school graduation, college enrollment & success, volunteering, and participation in school or local politics."
During the 2018-19 Season 13,960 students and their teachers from 65 schools from St. Lawrence, Jefferson, and Franklin Counties attended 18 Youtheatre performances.
A LIFELONG LOVE OF THEATRE BEGINS HERE!



2019-2020 SEASON…
THUMBELINA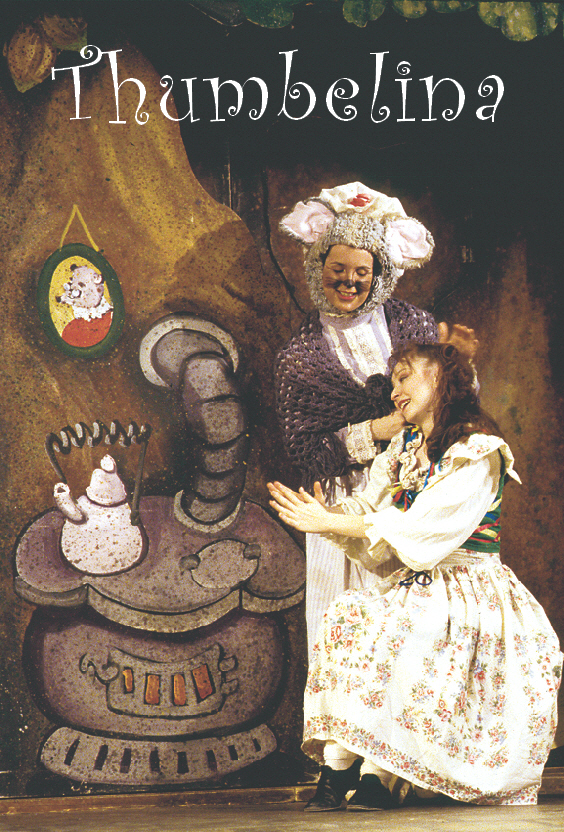 November 6 - Ogdensburg - 9:15 & 11:00
November 7 - Massena - 9:30
November 8 - Salmon River - 9:15 & 1:00
Grades PreK - 2
Study Guide: www.va-rep.org
This beloved fairy tale of heroism comes happily to life in this charming, funny and joyous musical adaptation based on the story by Hans Christian Andersen. Join Thumbelina and her friends (the toad, fish, field mouse, mole, and swallow) on a series of delightful adventures in nature's tiny, enchanted world.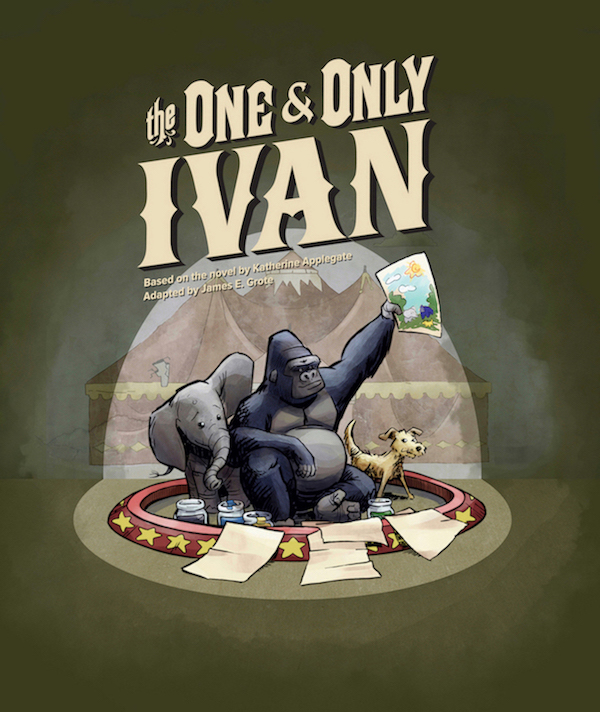 THE ONE & ONLY IVAN
January 7 - Ogdensburg - 9:15 & 11:00
January 8 - Massena - 9:30
Study Guide: www.geodesicmanagement.com
For 27 years, the world of Ivan the gorilla was a dull cage in a roadside shopping mall. But when he meets Ruby, a baby elephant captured in the wild, Ivan's ambitions and imagination must grow to meet the challenge of rescuing his endangered new companion. Aided by Bob the scrappy dog and a young human ally, Ivan sets out to become the great protector and remarkable hero in this unforgettable story of enduring friendship, drawn from true events. Based on Katherine Applegate's #1 New York Times bestseller and winner of the Newbery Medal.
THE RODNEY MARSALIS PHILADELPHIA BIG BRASS
February 26 - Ogdensburg - 10:00 & 1:00
Grades 7-12
Study Guide: www.rmpbb.com
Dedicated to the notion that music is a gift to be enjoyed by everyone Rodney Marsalis is one of the top classical trumpet soloists in the world. Effortlessly mixing classical, big band swing, New Orleans jazz and straight-ahead jazz in superlative arrangements is playing so nuanced that you'll swear at times you're hearing a string section! Wynton Marsalis says, "No one plays beautifully all the time...unless you're my cousin, Rodney."
SWEET CHARIOT
March 23 - Salmon River - 9:15 & 1:00
March 24 - Gouverneur - 9:15
March 25 - Ogdensburg - 9:15 & 11:00
Study Guide: www.va-rep.org
Sweet Chariot tells the true story of slavery by combining dazzling a capella spirituals with oral histories of 70, 80, and 90 year-old former slaves who were interviewed during the Federal Writers Project of the 1930s. their first-hand accounts of the joys and agonies of everyday life and their efforts to escape to freedom across the Ohio River, bring an educational and inspirational, unique and upbeat understanding to students.
THE POUT-POUT FISH
March 31 - Ogdensburg - 9:15 & 11
April 1 - Gouverneur - 9:45
Study Guide: www.twusa.org
Swim along with pouty Mr. Fish and his friends in this new musical adventure. Utilizing live actors and puppets, this colorful adaptation of The New York Times bestseller is sure to turn the poutiest of frowns upside down. This brand new production is co-conceived and designed by the acclaimed puppeteers of the Acheson Walsh Studios.
FRINDLE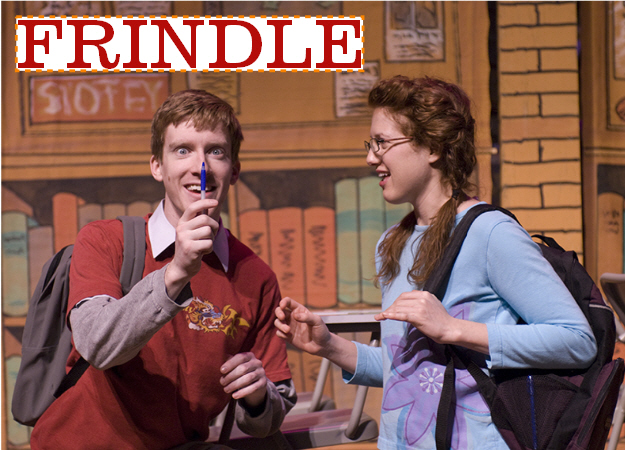 April 27 - Ogdensburg - 9:15 & 11
April 28 - Gouverneur - 9:45
Study Guide: www.geodesicmanagement.com
Nicholas Allen has plenty of ideas. When he ends up in Mrs. Granger's language arts class, he has his best idea ever - to create his own word... FRINDLE! Before long Nick's word creates a buzz in his school, his town, and then to his surprise, all around the country. A power struggle erupts with the strict Mrs. Granger...will the word "Frindle" win? This quirky, imaginative tale about creative thought and the power of words is based on the award-winning novel by Andrew Clements.

To participate please contact your child's school.
CLICK HERE FOR CLASS ACTS ORDER FORM
How was your experience? Click to fill out the
Youtheatre Survey
2018-19 YOUTHEATRE SPONSORS
Children and educators of the North Country extend their thanks to Superintendents Kevin Kendall (Ogdensburg City School District), Patrick Brady (Massena Central School District), Lauren French (Gouverneur Central School District), and Stanley Harper (Salmon River Central School District) for their generosity and support.
SENSATIONAL FRIENDS $5000+
7 News-Fox 28 TV* • New York State Council on the Arts • Sweetgrass Foundation
FABULOUS FRIENDS $2500 - $4999
Bev & Gus Becker • Dr. Manuel & Sally Palao • Henderson Printing* • Stewart's Shops Foundation • Windjammer Lodge*
GREAT FRIENDS $1000 - $2499
Dr. Ravinder & Barbara Agarwal • America 1 Realty • Corning Foundation Donaldson Funeral Home • NYS Correctional Officers & Police Benevolent Association • North Savings Bank • North Country This Week* • Northern NY Newspaper Corporation* • Price Chopper • Rhonda Roethel • St. Lawrence Health System • Stewart's Shops Foundation
TRUE FRIENDS $500 - $999
Patricia E. Bell • Claxton Hepburn Medical Center • DeFelsko Inspection Instruments • Erin Meyer Real Estate • Linda Griffin & Tom Patterson • Heritage Homes • Mort Backus & Sons • Claudia Moulton • Ogdensburg Education Association • Pat Collins Real Estate • Pepsi Cola Ogdensburg Bottlers • Phillips Memorial Home • Roman Catholic Diocese of Ogdensburg • St. John's Church Episcopal Church • St. Lawrence Federal Credit Union • Nancy Skiff • The Thousand Island Cruet • United Helpers Management Co. • Cynthia & Richard Wilson
* In-Kind
IF YOU WOULD LIKE TO SPONSOR ($500+ DONATION) THIS IMPORTANT PROGRAM-CALL 315.393.2625